Terrarium Domestic Series
Terrariums are advanced greenhouse based plant production systems that use automation controllers, sensors, growing recipes, and artificial intelligence to grow fresh food on a consistent basis. 
The Terrarium Series of Plant Factories enable growers to achieve year-round consistent vegetable production
The primary goal of the Terrarium structure is to maintain a comfortable indoor climate while maximizing natural resources such as sunlight.
Wind flow. micro climate, natural sunlight, energy management and crop selection are important design onside rations in the success of a Plant Factory.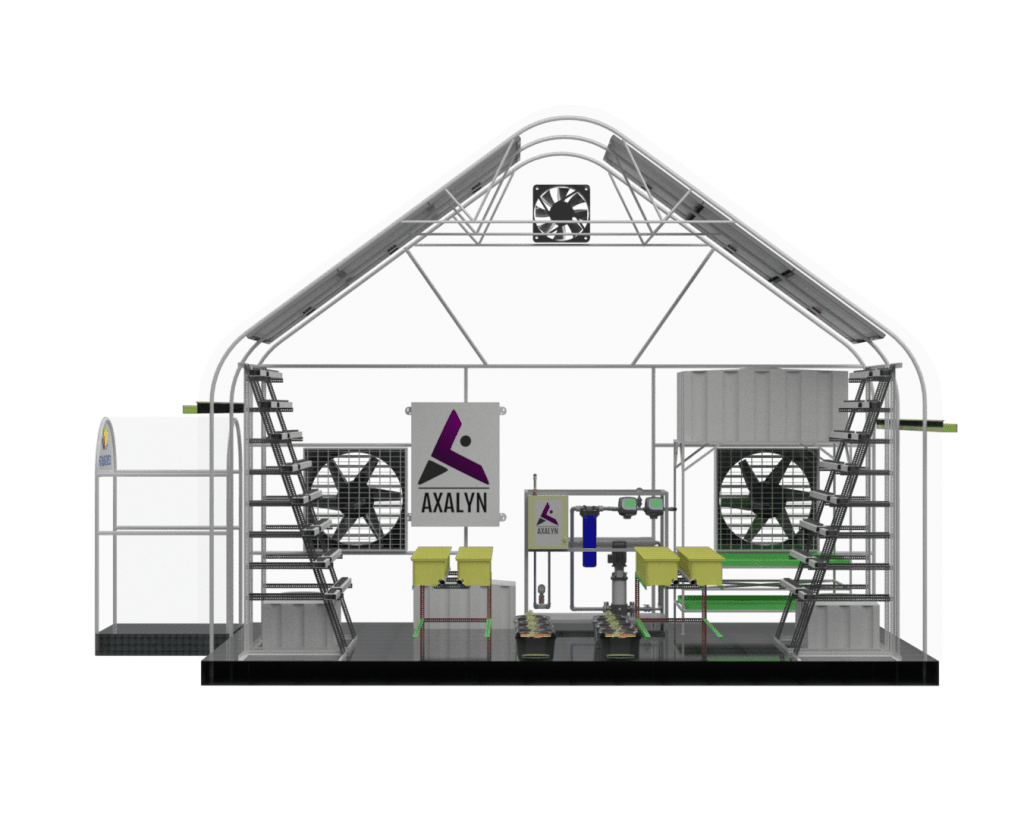 These structures are aerated to enable crops to be grown in partially controlled climatic conditions.
They are constructed of a translucent material that allows sunlight to pass through films for photosynthesis.
This format produces higher yields, better quality and consistent produce.
Each model of the Terrarium series has been carefully designed for optimum energy utilization.
They ensure higher food production in relation to the effort required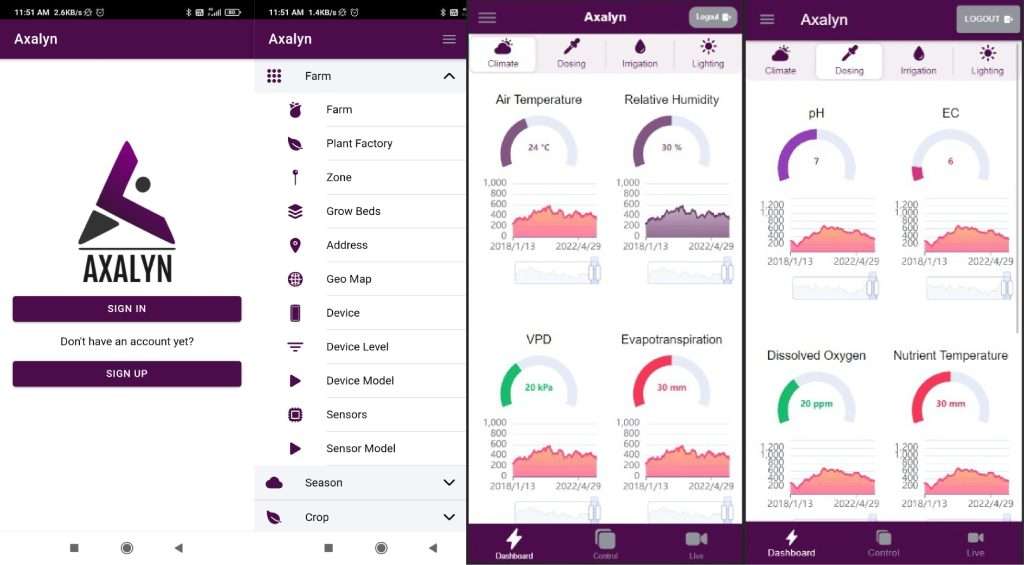 MONITORING CONSOLE & MOBILE APP
The Terrarium comes with a tablet to monitor and control the Plant grow operations end -to-end. The Axalyn mobile App can be used on Desktops, Tablets and Mobile devices from anywhere anytime for remote monitoring.
The virtual view shows Live data of the monitored sensor parameters projected onto a virtual Terrarium structure to provide for a better context.
The Live camera view allows monitoring the progress of the crops through their growth lifecycle so you can plan the harvest according to your needs.
Model: TD-500
Area: 500 sft
Plant Capacity: 600 plants Multi Controller (Irrigation, Climate & Grow light)
Dosing Controller and Nutrient Dispenser
Reverse Osmosis unit – 250 Liters/hour
1 NFT Frame: 8 channels
Holes Centre-Centre: 5-6 inch
Solar Panels: 72 Cells/335 W x 6
NET Frames: 8
NFT Plants: 512
Dutch Bucket Frames: 4
Dutch Bucket Capacity: 16
Dutch Buckets: 64
1000 Ltr Tanks: 1
250 Ltr Tanks: 2
25 Ltr Tanks: 4
NFT Channels: 64
Model: TD-1000
Area: 1000 sq ft
Plant Capacity: 2800 plants
Multi Controller (Irrigation Climate & Grow light)
Dosing Controller and Nutrient Dispenser
Reverse Osmosis: 250 Liters/hour
1 NFT Frame: 8 channels Holes Centre-Centre: 5-6 inch
Solar Panels: 72 Cells/335 W x 12
NET Frames: 18
NFT Channels: 144
NFT Plants: 2592
Dutch Bucket Frames: 10
Dutch Bucket Capacity: 16
Dutch Buckets: 160
2000 Ltr Tanks: 1
500 Ltr Tanks: 2
25 Ltr Tanks: 4
Model: TD-2000
Area: 2000 sq ft
Plant capacity: 7000 plants
Multi Controller (Irrigation. Climate & Grow light)
Dosing Controller and Nutrient Dispenser
Reverse Osmosis: 500 Liters/hour
1 NFT Frame: 8 channels
Holes Centre-Centre: 5-6 inch
High pressure Fogging system
NET Frames: 40
NFT Channels: 160
NFT Plants: 6400
Dutch Bucket Frames: 22
Dutch Bucket: 352
3000 Tank: 1
1000 Ltr Tank: 2
25 Ltr Tank: 4
Solar Panels: 72 Cells/335 W x 24