The Nutrient Dispenser releases precise amounts of pH buffer solutions and EC nutrient solutions as per the requirements of plants under cultivation. The pH and EC levels may fluctuate on a continuous basis as a result of Evaporation and Transpiration processes of the crop apart from freshwater induction into the nutrient tank. The Multi Controller can manage the pH, EC, Nutrient Temperature and Dissolved Oxygen levels in the nutrient solution. The grower can set the desired setpoints for pH, EC nutrient temperature and dissolved oxygen, as per best practices or agronomist recommendations for the crops under cultivation.
PH
ЕС
DO (Dissolved Oxygen)
Nutrient Temperature
Solar Radiation
Three modes of operation: Automatic, Schedule and Manual to suit different growing needs
Monitors solar radiation to determine ambient light for day and night classification
Supports Wi-Fi communication protocol for connectivity to the cloud via the Communication Gateway Controller
Intuitive touch screen graphical interface for easy operations under any lighting conditions
User friendly mobile app for remote climate control of the greenhouse over the internet
Built-in real time clock with CMOS battery backup for precision scheduling operations
User configurable peristaltic pump ratios and speed to meet the desired nutrient discharge rate
Calibration mode to ensure accurate operation of the pH and EC sensors
EC and nutrient temperature parameter units can be configured for different regions
Display: 3.2″ HMI TET
EC Measurement Units: EC, CF, or TDS (500/640/700)
EC Accuracy: +/-5% Full Scale (temperature compensated)
PH Accuracy: +/-0.1 @ 25°C
PH Measurement Range: 1-14
Nutrient Temperature Accuracy: +/-0.5 °C (from-10 °C to +85°C)
Nutrient Temperature Range: -55 °C to +125°C (-67 °F to +257 °F)
Dissolved Oxygen Range: 0-20mg/L
Peristaltic Pump Flow Rate: 400-600 ml/min
Power Source: 230V AC, 5A, 60 Watts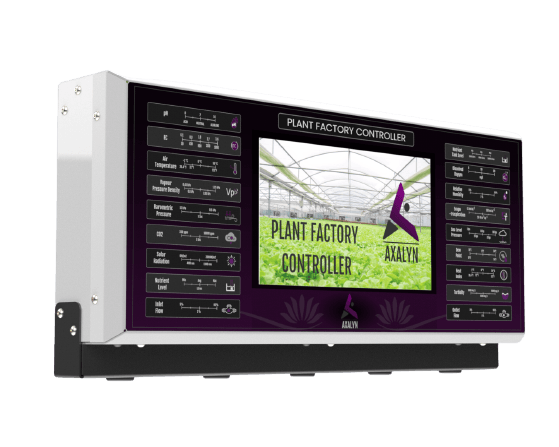 The Multi Controller is the heart of the terrarium automation system as it monitors and controls the crucial parameters to keep the plants happy and thriving. This is the world's first controller capable of managing the environment in Vapor Pressure Deficit (VPD), priority mode to control transpiration which directly affects plant health.
• Air Temperature • Solar Radiation • Relative Humidity • Heat Index • VPD  • Nutrient Level • Evapotranspiration • Turbidity • Barometric Pressure  • Inlet Flow • Sea Level Pressure • Outlet Flow • CO2 • PAR • Lux
Three modes of operation: Automatic, Schedule and Manual to suit different growing needs
Communicates with the dosing controller to synchronize dosing and irrigation activities
Supports Wi-Fi communication protocol for connectivity to the cloud via the Communication
Gateway Controller
Synchronizes the pump and solenoid valve of that specific zone as per the calendar schedule
Intuitive touch screen graphical interface for easy operations under any lighting conditions
User-friendly mobile app for remote control of the plant factory over the internet
Built-in real-time clock with CMOS battery backup for precision scheduling operations
Controls water levels across reservoirs and water tanks along with inlet and outlet flow rates
User configurable peristaltic pump ratios and speed to meet the desired nutrient levels
Manages CO2 ppm levels for optimal photosynthetic rates in the controlled environment
Manages solar radiation to determine ambient light for day and night classification
Measures VPD levels by regulating the evaporative demand of the plant factory
Ensures highly accurate and dynamic control over the supply and availability of the nutrient solution to the crop root zone
Allows control over the supply of nutrient solution by accommodating for solar radiation and subsequent water transpiration rates
Easy and clutter-free installation of the Controllers, Sensor Probes wiring harness and PVC components
Implement stringent access control measures through password protection at the controller level to prevent unauthorized access to setpoints and schedules
Receive notifications and alerts to implement proactive and reactive remedial measures to prevent crop loss situations.
Graphical dashboards and analytics give a better understanding of the plant factory operations, based on granular data collected over a period of time, and visibility to the combination of parameters giving maximum yield
Ensures delivery of accurately prepared nutrient solution levels supplied to the hydroponic system within the plant factory resulting in consistent crop yields
Built-in real-time clock with CMOS battery backup for precision scheduling operations